Like most Palestinians and Israelis we have met, we Elders view the two-state solution as the most just and realistic path to peace. After visiting Jerusalem, I am filled with mixed emotions.
Our final stop in Jerusalem was wonderful. We joined hundreds of demonstrators, Israelis and Palestinians, who protest together every week against the forced evictions and home demolitions taking place in the largely Palestinian neighbourhood of Sheikh Jarrah.
I have to confess that the experience brought me close to tears. I was so proud of those courageous people, who are often joined by others from around the world, who come out each Friday to protest for peace based on justice.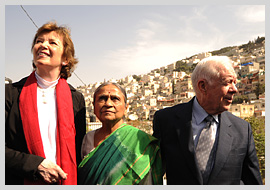 Mary Robinson, Ela Bhatt and Jimmy Carter
in Silwan, East Jerusalem
On the other hand, our visit to another part of East Jerusalem, Silwan, makes me think that, despite the protests and outcry, the entire two-state solution may be in danger. Our visit to a protest tent in the al-Bustan part of Silwan was particularly shocking.
We met Aida Rishq, a mother of seven children, who told us that she puts her children to bed in their jeans, not pyjamas, for fear that Israeli security forces might come and arrest them in the night. Ten year old Ahmed Siyam showed us bruises and cuts and told us how soldiers had cursed and insulted him. That a child could be arrested, hit, interrogated, and asked to reveal the identity of his friends, was very difficult for us to hear. His scabs will heal, but I wonder if his pride will.
Aida fears that any day, the Israeli authorities might evict her family from their home. The streets of her neighbourhood are being taken over by an archaeological park that is the project of Israeli settlers. Their heavily armed private security forces patrol the roads and guard the entrances to settler homes. Skirmishes regularly break out between these guards and the Palestinian residents – recently a Palestinian protestor was shot dead by such a security guard.
We learned of the many types of pressure experienced by Palestinian residents of East Jerusalem in their daily lives. They have never had citizenship in Israel; since 1967 they have had resident status and now their residency ID cards can revoked for any number of offences, including political activity. They are denied permits to construct homes: we learned that only 4000 permits have been issued by Israel since 1967, for a population that now stands at 280,000. Without these permits, the municipal authorities may claim that any Palestinian home is illegal, often used to justify eviction.
We saw how the separation barrier cuts right through the Palestinian neighbourhoods, dividing communities, families, friends. The wall is not only making it harder for people in those neighbourhoods to live normally, to visit or do business with their family and friends on the other side. It is disrupting Palestinian contiguity, making a viable Palestinian state increasingly hard to imagine.
Indeed, these hardships affecting Palestinians' everyday lives have been complemented by intensified political activity on Israel's part. Development plans in what is known as the E1 area and settlement annexation connecting some of the outlying Jewish areas, if unchecked, will make a Palestinian capital in East Jerusalem unviable. And without the two capitals for two states, I can't see how a two-state solution will be possible.
We were particularly disturbed by the use of religious narratives to serve political aims. The excavation of tunnels and archaeological digs, for example, are being done in the name of strengthening the Jewish heritage. But this cannot justify the disproportionate encroachment into people's lives, or the promotion of the Jewish narrative at the expense of Jerusalem's longstanding Muslim and Christian communities. The city of Jerusalem is holy for all three Abrahamic faiths – the sacred history of all three must be protected and preserved.
We fear the consequences if the physical and political pressure on Palestinian residents of East Jerusalem is not eased – if their living conditions are not improved, and their livelihoods not allowed to flourish. As our Israeli guide told us: "You cannot solve a refugee problem from 1948, by creating more refugees." Yet that is what is happening.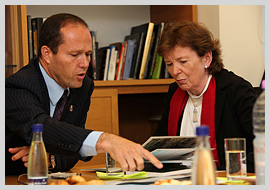 Mary Robinson with the Mayor of Jerusalem,
Nir Barkat. More photos.
When we met with Mr Ruben Rivlin, Speaker of the Knesset, he acknowledged the complexity of this situation and the difficult conditions for Palestinians in East Jerusalem. He strongly advocated greater investment in improved infrastructure and services. Likewise, in our meeting with Mayor Nir Barkat, the Mayor embraced the notion of greater investment in schools and better education for Palestinians.
Yet while economic development must be a consideration, until the residents are brought into the process instead of feeling both literally and politically kicked out – I am concerned that it will make tensions worse.
Jerusalem is part of the broader context of the Israeli-Palestinian conflict, and what happens in Jerusalem will undoubtedly help to determine the outcome of the peace process. Israel's leaders must not treat Jerusalem as a separate track: the home demolitions, evictions and excavations in Silwan, East Jerusalem, are at the heart of the problem - and the solution.