The Elders have joined a coalition of organisations marking the International Day of Peace, a UN day "dedicated to strengthening the ideals of peace, both within and among all nations and peoples" taking place every 21 September.
Brought together by Peace One Day and Interpeace, this coalition has been convened around the theme of a 'Global Truce 2012'. It calls for the largest ever reduction of violence on one day and to unite on an unprecedented scale in support of organisations that work for peace, as well as those that need peace to carry out life-saving work in conflict-affected places.
Archbishop Desmond Tutu, Chair of The Elders, said:
"This is a day to realise the noblest dream there is: peace; an end to violence everywhere, within our homes, on our streets and between our societies, for the safety and dignity of all. This dream must always stay with us, even in the midst of so much tragedy."
A day of peace in Blue Nile and South Kordofan
The Elders wish to particularly highlight the plight of those children, women and men caught in the on-going fighting that broke out again in June 2011 between the Sudan Armed Forces and the Sudan People's Liberation Movement-North (SPLM-N), in the border areas of South Kordofan and Blue Nile, in Sudan.
According to the UN, around 700,000 people have been displaced or severely affected by the fighting in these two states, including about 200,000 refugees who have fled to camps in South Sudan and Ethiopia. After more than a year of fighting, humanitarian access is still to be granted to civilians affected by the conflict.
The Elders welcome the signing, on 4 and 5 August, of the Tripartite (African Union, Arab League and United Nations) Memorandum of Understandings by the Government of Sudan and the SPLM-N to ensure the delivery of humanitarian assistance to war-affected civilians in South Kordofan and Blue Nile states. During their visit to Khartoum on 27 May, Lakhdar Brahimi and Jimmy Carter had urged President al-Bashir of Sudan to facilitate humanitarian access to those regions.
But signing agreements is not enough. In the spirit of Peace Day, they call for a truce to allow humanitarian access to those in need. They also urge the speedy and full implementation of these agreements to ensure safe, unhindered and impartial aid to all those affected by conflict, recalling the responsibility of the Government of Sudan towards all its citizens.
The Elders also call on the leaders of both Sudan and South Sudan to put the needs of their people first and work to find a long-term peaceful resolution to conflicts, both between and within their countries.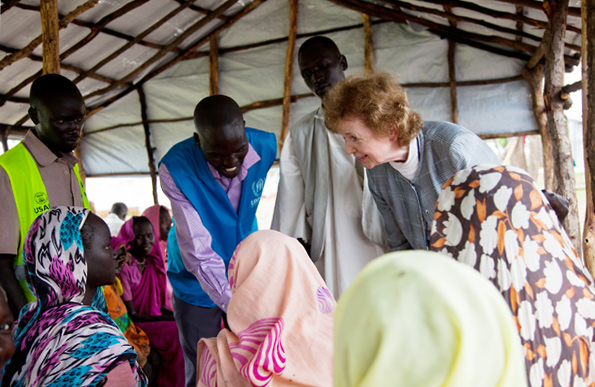 Mary Robinson speaking with young women at Yusuf Batil refugee camp, South Sudan. Adriane Ohanesian | The Elders
Archbishop Desmond Tutu said:
"In July this year Martti Ahtisaari, Mary Robinson and I visited Yusuf Batil, a refugee camp in South Sudan, on the border with Sudan. We saw first-hand the fragility of life for those who had crossed the border into South Sudan, fleeing the violence in Blue Nile and South Kordofan. A truce there would allow vital humanitarian assistance to reach those who are unreachable."